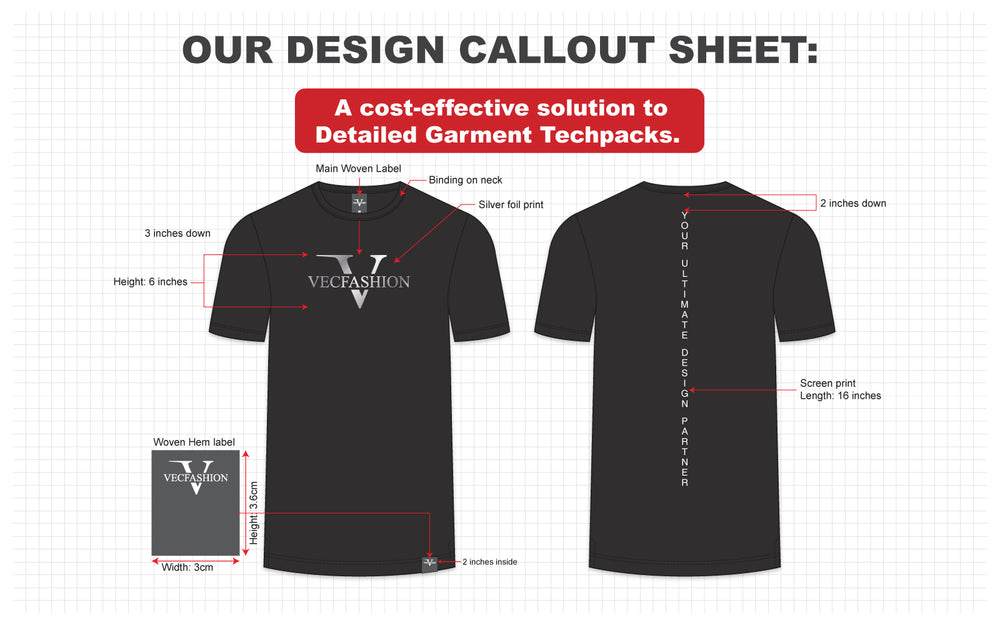 Our Design Callout Sheets are becoming very famous and giving a very positive outcomes yet easy to afford. Here in this post we will give you a general idea why it's important. 
There are many people who wants to launch their new clothing brands but isn't aware of the necessary steps to follow. At this stage a serious consultancy required or help by companies or professionals like us who are working in industry since long time so are well aware of the good and bad practices. 
First thing first, you always should go for the detailed Garment Techpacks if you can afford the cost, is usually higher and cost you in range of $250-450 depending on the detailing of the style. The price varies from company to company and your understanding with them. From experience new customers think of it as wasting their money on Garment techpacks, however experience proves that this is the best way going forward and you start to see your designs on paper before it goes to manufacturers. 
So what is a Design Callout Sheet and Why?
We are offering a low cost alternative to Garment teckpacks by adding design details on one paper highlighting all important details that a supplier/manufacturer will be needing. It does not include all information but it can give basic information like, 
1. Which fabric it is, its color, gsm and fabric quality.
2. If the graphics on top of it is going to be print, embroidery or transfer. Also its size and placement on garment. 
3. Trims like main neck label is going to be print, woven label etc. 
Usually we charge $75 for this sheet that includes everything you see in the preview image that means it will also include with the Fashion CAD of the garment, however the price may change if work is very simple or if you are ordering in bulk. Similarly the price can go higher if the garment is very detailed and or a puffer jackets. 
If you are in need of any Apparel CADs or Design Sheets you should contact us know right now!